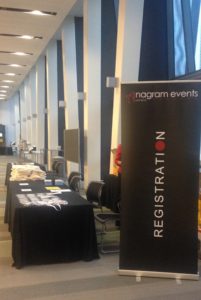 Anagram Events Australia Conference Organiser

Anagram Events Australia is a Conference Organiser and Event Management company located in Ipswich, Queensland. While we specifically focus on event delivery across the Brisbane, Ipswich and Toowoomba areas, we have the networks and resources to be able to deliver and manage events in many metropolitan and regional areas across Australia.
We specialise in delivering an unsurpassed level of client service in all aspects of conference, workshop, industry awards nights, business meetings and seminars. We plan and deliver events for many industries including corporate, information communications technology, higher education, scientific and medical sectors.
The team, with a combined management experience of more than 40+ years in the meeting and events industry, ensures Anagram Events Australia is ideally placed in assisting with the planning and execution of your corporate event or conference.
At Anagram Events Australia our focus is on providing unparalleled levels of hands-on personal service underpinned by a GUARANTEE of professional excellence. We have the experience, expertise, technical knowledge and creativity to design and deliver truly exceptional events. Our highly-structured processes will ensure that no detail, no matter how small, will be missed. We understand it is this attention to detail that can transform a mediocre event into an AMAZING EXPERIENCE.
Hear what our clients have to say about the quality of service they receive.
For a NO OBLIGATION FREE QUOTE, contact us to see how we can assist you making your vision come alive!